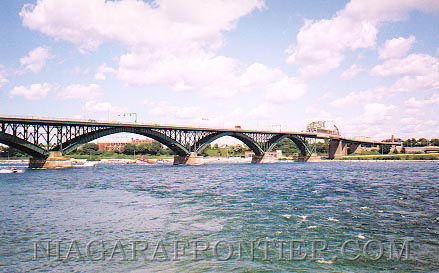 Seriously…
How long has this whole Peace Bridge redo taken so far?  I believe the current talk for the a bridge replacement or companion span started in 1996 or 1997!
Honestly…the Peace Bridge situation has been pretty much off my Buffdar (Buffalo radar)…that was until tonight…
From Buffalo Rising…
The Peace Bridge is going to get a makeover – just not the one people thought it would be getting. The construction is slated to start in late 2009, but not with the original design. A bi-national design jury chose the original design two and a half years ago. They picked a 567-foot high two-tower cable stay bridge, designed by Christian Menn, as the recommended bridge to expand capacity. It is pictured below:

Well, after a thorough review, The Federal Highway Administration (FHWA) determined that the height of the towers on the original design might have an unacceptable impact on migratory birds and the protected Common Tern.
OMG to the tenth power…
At least the plan is to still start construction by 2009.